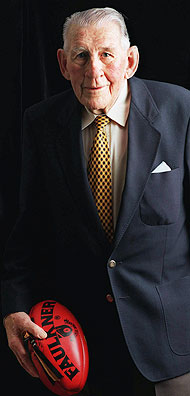 Jack Dyer - Richmond Football Club

I grew up worshipping Jack Dyer on the Sunday television show, World of Sport. Jack never said much, but when he did it either shut everyone up or brought the house down.

Spirit of a true champion.
---
Jack Dyer - RICHMOND
Tiger supporters worshiped him, the opposition despised him, either way Jack Dyer was a master of the game.
He was fast for a ruckman and his marking and kicking ability were superb. He made great use of the crunching hip and shoulder, but in 312 games Jack was only ever reported once. Dubbed "Captain Blood" after a game against Fitzroy in which he flattened three players, Jack took no prisoners.
Dyer was club captain 1941-49, coach from 1941-52 and added six Best and Fairest awards to his name. He was one of the toughest ruckman ever to have played the game.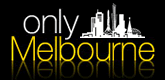 Nickname: Captain Blood
Games: 312 (1931-49)
Captain: 1941-49
Goals: 443
Coach:1941-52
Best and Fairest: 6 (32,37,38,39,40,46)
Premierships: 2
State representative: 2 (1941,49)
A.F.L Links
---
INTERVIEW
BEST OF JACK
---
VICTORIAN TEAM OF THE 20TH CENTURY
Forward Line - Left Forward Pocket - Jack Dyer (Richmond)

The nickname 'Captain Blood' says almost everything which needs to be said: Jack Dyer was the epitome of the tough, ruthless footballer who took no prisoners. However, the tiny amount which it doesn't say is also worthy of telling: Jack Dyer was a highly accomplished footballer who would have been a creditable performer even without the embellishment of brutality. Perhaps more to the point, had Dyer elected to sacrifice some of his team-orientated qualities in favour of the individualistic approach espoused by certain of his contemporaries there are some (Melbourne super-coach Norm Smith - no mean judge of player talent, one ventures to suppose - among them) who suggest he might have become the greatest and most highly decorated footballer of all time.
Decorations were for Christmas trees as far as Jack Dyer was concerned, however. Football was - and is - a team game, and if the best way to help his team to victory was to intimidate and unsettle the opposition, then so be it. Moreover, if the needs of the team were best served by inflicting actual bodily harm on members of the opposition, then that was fine, too. Having been schooled by nuns and Christian brothers, Dyer was nothing if not pragmatic. "Anything goes," he once observed, "as long as you can get away with it." The fact that Jack Dyer was only suspended once during his 20 season, 312 game, innumerable collar bone-breaking VFL career suggests that he was eminently capable of 'getting away with it'.

He was also a pretty good footy player.
---
John Raymond Dyer died today, August 23rd 2003. He was 89. Jack Dyer was the 'epitome' of the Richmond Spirit. He was the first Richmond identity to be honoured as an 'Immortal' of the Richmond Football Club. His nickname is as famous as the player he was, Captain Blood.
---
AFL legend Jack Dyer dead at 89 - August 23, 2003

He inspired fear, adoration, then laughter and, in the end, unilateral love and respect.

So terrifying was Jack Dyer as a Richmond player he was dubbed "Captain Blood" after the Errol Flynn movie classic.

And it was with a swashbuckling brand of football that he took Tigers supporters on the longest ride of their lives.

So skilled was Dyer as a footballer he is credited with the current drop punt kick and twice topped the Tigers' goal kicking list as a ruckman.

And so humorous was he as a multi-media commentator that fans eagerly awaited the next misplaced phrase to tumble out of his mouth.

He was a captain, a coach, a multi-best and fairest winner, then finally an official AFL legend and a Richmond immortal.

Dyer died at 1pm AEST on Saturday aged 89, cutting another link to an era when the game was unsanitised, when players ruthlessly cut each other down on the field then laughed about it later over a beer together.

Born in 1913, Dyer was invited to train with Richmond in the then VFL after playing with Richmond Hill Old Boys on weekends and the Yellow Cabs on Wednesdays in a competition that was labelled brutal.

He made his debut in 1931 with the Tigers and from there carved himself into football history through his tough and aggressive play.

In his 19 seasons with the Tigers the rugged ruckman played 312 games (then a league record) and booted 443 goals, leading the club's goal kicking in 1947 and 1948.

He was described as a wiry, loose-skinned youngster when he first began but grew to become an outstanding ruckman.

Dyer won Richmond's inaugural best and fairest award in 1940 and in 1946 captured his second club championship.

He played in two premiership sides (1934 and 1943) and captained Victoria in 1941 and 1949.

Despite his fearsome reputation, Dyer was reported only five times and suspended once.

But he once broke the collarbones of five opposition players in one season.

The Age
---
Some memorable "Dyerisms"

"He keeps getting where the ball aint"
"I won't say anything in case I say something."

"Bartlett's older than he's ever been before." (1980).

"Johnston missed one from the 10 yard square - it was impossible to miss that." (1981).

"The only way to tackle Justin Madden. I don't know." (1981).

"Henshaw passes the ball to Kelly and Kelly gives a Henshaw to Glendinning." (1982).

"That's the beauty of being small - your hands are close to your feet." (1982).

"There weren't too many best mans on the ground." (1982).

"He's tuckled strongly by Tack." (1983).

"He sets himself for a high mark - actually, that was a low high mark." (1983).

"He's put the game beyond result." (1983).

"Bamblett made a great debut last week, and an even better one today." (1983)

"The ball goes to Marceesie ... Marcheson ... McKann, er ..." before co commentator Ian Major interjected: "Actually, Jack I don't think Marchesani was in that passage of play." (1981).

Dyer once observed a player was "carrying a bit of a knee" and noted that "They've got a couple of good players in Harvey".

And then there was "a rather difficult goal kicked very easily".

"Diamond Creek was a long way away once."

"Mark Lee's long arms reaching up like giant testicles."

"Flanagan's trying to use some pace that he hasn't got."

"They should have kicked 12 goals in that third quarter because they were right on top and hardly doing a thing right."

"The goal posts are moving so fast I can't keep up with the play."

And once, on the long-running Sunday television show World Of Sport, Dyer declared that Fitzroy had "copulated to the opposition".
---
Greats pay tribute to Dyer - By Lyall Johnson, Melissa Ryan
If the great Ted Whitten was the people's man of Australian football, Jack Dyer was football's greatest icon, its elder statesman whose humour, humility and gentlemanly off-field demeanour stood in stark contrast to the rucking terror who history remembers as "Captain Blood".

Tributes flowed in from across the football world yesterday after the passing of the game's biggest legend, who died aged 89.

Collingwood great Lou Richards, one of Dyer's closest friends and who, with Dyer and Geelong's Bob Davis, were the forerunners of today's football media personalities, described his friend as a wonderful gentleman, a private and humble man who in his old-fashioned way would never swear in female company.

"I think the most important thing, in all the years, Jack was a thorough gentleman," Richards said.

"I never heard him swear in front of a woman, he respected women, and that's the thing I admire about him. If anyone got a bit blue in front of a woman he'd pull them over the coals and that's a great feature to have in your life."

Richards said some of his fondest memories of Dyer were during the filming of League Teams and World of Sport, in which Dyer would mutilate the English language with his famous "Dyer-isms".

Richards said Dyer was the player who popularised the drop punt.

"There is a very famous story about him having a shot for goal and his side was a goal down and if he kicked the goal it would have been a draw," Richards said.

"But he said, 'I won the game', and I said, 'How did you win it', and he said, 'When I kicked it the ball burst and the bladder went through the goal post and the cover went through the point post and I got seven points for it.' "

Kevin Bartlett, the former Richmond great and the man who passed Dyer to become the club's games record-holder, said while he didn't see the great man around Punt Road Oval too often during his 26 years at the club, his spirit was everywhere.

"He was a great man, and undoubtedly he is the greatest name and the biggest name in the history of the Richmond Football Club," Bartlett said.

"He was the man who embodied the spirit of the Richmond Football Club and I think the catch cry 'Eat 'em Alive' and Captain Blood and the whole history of the RFC is entwined around the legend of Jack Dyer. It is a very sad day that the greatest man in the history of the club is no longer with us.

"I don't know whether there is a bigger legend than Jack Dyer. He played through an era of depression, the Second World War and it was at a time when people were looking for heroes, looking for people to lift their spirits.

"Richmond itself was known as "Struggletown", it was working class and there was this man who went to school in Richmond, started playing at 17, led from the front playing brilliant football, he-man-style stuff as well, with catch cries of Captain Blood and Eat 'em Alive; it just built up an image of the Richmond Football Club that has been sustained to this very day."

Tom Hafey, who coached Richmond to four premierships, said the football world stood in awe of Dyer.

"I remember him as a player and he was just a freak player. He was so big and strong and fearless and courageous and he did all those things, but he wasn't only that - he was very skilful as well," Hafey said.

"A lot of people probably only think that he was a big knock 'em down man, but he really wasn't; he was as quick that he could have played in any position."

South Melbourne legend Bob Skilton said Dyer's tough image belied the gentle and caring man he truly was.

"Jack was just a beautiful person. Never having seen him play football, it's almost hard to imagine that the rough and tough guy that you hear about was the same guy, because there's no nicer person than Jack Dyer," Skilton said.

"It was just a privilege to know him and it was great on the days of World of Sport and such. Jack would come out with some of the classic sayings, such as, 'It's no good being where the ball ain't', or at one stage he said he disliked Collingwood that much he wouldn't even watch a black-and-white movie! Jack was just a fantastic person."

Richmond premiership captain and coach Tony Jewell said Dyer had a "Bradman-like stature".

"It just seems to me that Richmond and Jack Dyer are the one. It is hard to separate the two and what we like to think we are about. The whole culture of the club seems to be built around Jack Dyer," Jewell said.

Dale Weightman, who was Richmond captain between 1988 and 1992, was reported 16 times and whose father went to school with Dyer, remembered him as a great story-teller who would tell him to "make sure you don't get caught, sonny" when he was did something wrong on the field.

"Jack's probably one of those blokes where words virtually mean very little. What he'd done, and how he did it, and what he achieved, you don't really have to say too much about him," Weightman said.

"If you just say 'Jack Dyer' you can come up with so many superlatives. He was the type of bloke who was the gentle giant, he was hard and tough on the footy field, he was a fantastic bloke to be around, but Jack Dyer was Jack Dyer."

Playing and coaching great Ron Barassi remembered Dyer as a man who "always looked out for me" because his father played against Dyer in the same era.

"I didn't have much to do with him in football because he had retired by the time I got into the action, but he was an icon as we all know and just one of the nicest blokes you'd ever meet off the field," Barassi said.
---
AFL great Jack Dyer dies - August 23, 2003

AFL football legend Jack Dyer has died at the age of 89.

Dyer, who was nicknamed "Captain Blood", died at his home at 1pm AEST on Saturday after a long illness.

One of Richmond's greatest and fiercest players, Dyer played 312 games with the Tigers from 1931-49 and kicked 443 goals.

He played in Richmond premiership sides in 1934 and 1943, when he was captain-coach and captained Victoria in 1941 and 1949.

He later made a name as a humorous commentator on the game, noted for his unique expressions and misplaced use of words.

Although one of the toughest ruckmen of his era, Dyer was also known for having a fine football brain.

While a big man, he was fast as well as being a fine mark and accurate kick.

Despite his nick-name and the fear he drew from the opposition, Dyer was only ever reported once.

He earned his "Captain Blood" tag in a game against Fitzroy (now the Brisbane Lions) in which he crashed through three players.

Dyer was Richmond captain from 1941-49 and coached the side from 1941-52.

He won six Best and Fairest awards and is the most revered figure ever to have played at Punt Road.

Dyer was born in the south-eastern Melbourne suburb of Oakleigh, moving as a boy with his family to inner suburban Richmond.

He was educated at the St.Ignatius school and later at De la Salle College in Malvern.

He was invited to train with Richmond after showing the first signs of his football skills with the Richmond Hill Old Boys side.

From the time he graduated to the senior side proper after being named 19th man in the game on May 9, 1931, he proved to be a bone-cracking opponent who unleashed a physicality on the game rarely seen before.

The Age
---
Jack was a great mate By LOU RICHARDS

I MET Jack Dyer about 60 years ago when he was a big, bruising ruckman for Richmond and I was a cheeky, young rover for Collingwood.

We first crossed paths when Collingwood didn't have a ruckman to contest a boundary throw-in, so I jumped up behind Jack and hit him near the ear -- an accidental blow, of course. Jack turned around and clipped me behind the ear. I told him to pick on somebody his size.

Jack taught me a valuable lesson that day. He told me if I couldn't hack it, to pick up my schoolbag and go home. There were no favours given in League footy.

I am saddened by Jack's passing. As mates, we shared many wonderful moments. He was a genuine legend of the game. Or as he would put it, "A legion in his lifetime".

He should be given a State funeral. And a statue should be erected in Richmond where he grew up and became the most famous name the suburb has known.

I loved Teddy Whitten. If a State funeral was fitting for him, it certainly is for Captain Blood.

Jack certainly was a great player -- fast for a big bloke and a magnificent kick. He took credit for inventing the drop punt.

He liked to tell footy stories -- like the one when he had the final kick as the Tigers were a goal down on the siren. He gave it a tremendous boot and as the ball sailed towards the goal the stitching split. The bladder went through the goal and the skin through for a point. Jack boasted he was given seven points and won a further game for his beloved Tigers.

Jack was a great man for football and a gentle giant. He respected women and was a gentleman, even when he met blokes a few hours after he had terrorised them on the footy field.

Jack also was highly respected. Although he used to bluff and bluster his way through interviews on World Of Sport, he always had the ear of coaches and players. They admired him, respected his opinions and loved chatting with him. That usually took place over a few ales in the make-up room.

I remember one day when Jack told a packed room nobody could be considered a champion unless he had played at least 100 games. When it was pointed out John Coleman played only 99, Jack shot back that there always was an exception.

Jack and I carried on in the media like it was an extension of our first meeting -- he a big buffoon, me a cheeky little guy. That was part of our act, and anyone who knew us appreciated that.

We had a barrel of laughs over the years, particularly during our days on World of Sport and League Teams, both of which involved our great mate Bob Davis. The three of us tried to put a bit of fun into footy.

Eddie McGuire and Sam Newman will tell you they have imitated many of the World of Sport and League Teams segments for The Footy Show. And they have tried to put the same fun into it as we did all those years ago.

Jack and I did commercials for Four 'N Twenty Pies and Maxwell Radios, and every year we had a ball when he helped promote the Salvos. The sillier we acted, the more response we received.

Our union was capped off when Richmond and Collingwood began playing for the Dyer-Richards Medal. That was a real honour and I know that Captain Blood could think of nothing better than knocking off Collingwood, and vice versa.

I will miss Jack and all his antics. But I will remember him as a marvellous man, a wonderful character and a legend.

WITH ROD NICHOLSON
---
Peace for a champion
SEVENTY-TWO years ago a gawky, raw-boned kid ran on to Punt Road oval for the first of his 312 VFL games.
John Raymond Dyer, recruited from a team quaintly called the Richmond Hill Mob, launched a career in Round 2, 1931. He had an inauspicious start, spending the afternoon on the bench while Richmond kicked a league record score against North Melbourne (30.19 to 4.7).

Dyer was dropped the following week and did not re-emerge until the return game later in the year.

But from that day forward, his football career took off and he quickly established himself as Richmond's first ruck.

He was labelled "Captain Blood" after the Errol Flynn character and, as legend has it, he was strong, tough, wild -- but, most of all, skilled.

At once hated, idolised, feared and cheered, the captain was the undisputed villain of the game.

When Dyer retired in 1949, he left behind a record studded with broken bones and clashes with umpires.

Once, after he knocked out an opposition player, 200 angry fans waited outside the ground to get at him. At that time Dyer was a policeman.

Emerging in his uniform he drew his revolver, made a break for his car and got away, although he was showered with stones and bottles.

Although one of the hardest players in the history of footy, Dyer had many fans.

When he was in hospital, Captain Blood received more than 500 well-wishing telegrams and when Richmond's adoring fans began their chant, "Eat 'em alive, Tigers", there was no doubt to whom the call was directed at.

But for all his reputation as a football wild man, Dyer was more than a mere bruiser.

He was a fine mark, an excellent kick and a dedicated team man. Amazingly fast for a man his size, he could play in any position and had the football brain of a true champion.

Dyer was born in the Melbourne suburb of Oakleigh on November 13, 1913.

Soon afterwards, the family moved to a small farm at Yarra Junction about 80km from Melbourne.

At 12, he bought his first pair of football boots and was soon playing with grown men in the Upper Yarra Valley competition.

News of the football prodigy filtered out and young Dyer was offered a scholarship with St Ignatius School in Melbourne.

In 1927, Dyer's parents moved to Melbourne. The boy was 14 and had to leave school to help with the family finances.

He got a job as a packer at the equivalent of $1.25 a week and began playing for the Richmond Hill Old Boys in the Metropolitan Junior League.

By the 1930 season, when Dyer won the award for the best and fairest player in the junior competition, word of his ability reached Richmond.

The 17-year-old gleefully accepted an invitation to train with the team for the 1931 season.

It was the middle of the Depression. Dyer himself was out of work and like many others he needed the $6 for a match.

For all his destructive tactics, Dyer seemed to bear a charmed life with umpires. He was reported only five times and suspended once.

By the late 1940s, Dyer was slowing up but was as deadly as ever.

In his last game, in 1949, he kicked six goals.

On retiring, he switched from the footy oval to the media and was part of Channel 7's World of Sport from 1956 to 1986
---
Special prayers for Richmond's Captain
By MARY PAPADAKIS and CHRIS TINKLER

FOOTY legend Jack "Captain Blood" Dyer will be honoured in a prayer service at the church where he served as an altar boy.

The 89-year-old Richmond star passed away in his sleep at Box Hill Hospital at 1pm yesterday, suffering pneumonia.
Dyer had been moved from his Kew nursing home after falling ill on Thursday.

His son Jack, 62, was at his bedside and said his father suffered no pain.

"The doctors said the pneumonia was one last battle he couldn't win; his body simply, finally, folded up," Jack said.

A special prayer service will be held at St Ignatius Catholic Church, in Richmond, where Dyer was once altar boy.

He will be buried at Springvale alongside his wife, Sybil, who died in 1967.

One of Richmond's greatest and fiercest players, Dyer played 312 games with the Tigers between 1931 and 1949 and kicked 443 goals. He coached the club 225 times between 1941 and 1952.

Dyer played in Richmond premiership sides in 1934 and 1943, when he was captain-coach, and captained Victoria in 1941 and 1949.

Later, as a football commentator, he was noted for his unique expressions and misplaced use of words.

Despite his fearsome nickname, Dyer was only reported once.

He earned his Captain Blood tag in a game against Fitzroy (now the Brisbane Lions) in the 1930s when he crashed through three players.

Dyer won six Best and Fairest awards and is the most revered figure at Richmond's Punt Rd headquarters.

Emotional tributes poured in last night.

Premier Steve Bracks said Dyer's legend would live on.

"Jack Dyer was one of the great football legends, a captain, coach and premiership player. He was a rare breed of footballer who achieved just about every football accolade and honour," he said.

"Most Victorians will also remember Jack went on to be one of the great TV sporting personalities."

Sports Minister and former Carlton ruckman Justin Madden said: "Captain Blood was a champion footballer and an outstanding character of a football era long gone.

"People of Victoria, regardless of who they barrack for, will always have fond memories of the legend of Captain Blood and the character that Jack Dyer was."

AFL chief Andrew Demetriou said: "Jack Dyer was one of the great legends of our game and everyone associated with football would pass on their sympathies and condolences to his family."

Demetriou said the AFL would discuss tributes with Richmond Football Club tomorrow.

Richmond president Clinton Casey said players would wear black armbands at today's match against Port Adelaide.

"This is an extremely sad day for the Richmond Football Club," he said. "Some of the finest footballers . . . have played for Richmond, but the greatest of them all was John Raymond Dyer."

Geelong legend and former World of Sport co-host Bob Davis was deeply saddened.

"I just don't have words good enough for Jack," he said. "He was just solid gold. "The Captain Blood image was not exactly true because, away from the field, he was a great family man and to me, he was like a father."

Former Tigers coach Tommy Hafey said: "He was a legend, he was our best and biggest player. Everyone will remember Jack for who he was and how he played the game."

Collingwood president Eddie McGuire said it was "a sad loss for football".

"He was one of the first multi-media superstars of VFL/AFL football."
Special prayers for Richmond's Captain
---
Jack Dyer passes away - Paul Gough

AFL legend Jack Dyer, who passed away aged 89 on Saturday following a long illness, was not only the greatest name in Richmond�s long and proud history but one of the most famous names in the history of the game.

The man known as �Captain Blood� for his ferocious playing style was a champion player, successful coach, legendary football caller and one of the funniest and most famous media personalities in the 100 plus years of the VFL/AFL all rolled into one.


Dyer began his playing career at Richmond in 1931 and soon emerged as one of the best and toughest players in one of football�s toughest eras.

It was the time of the great depression but Dyer soon became a hero to the legions of Richmond fans, who used to pack the club�s traditional home at Punt Road � where the sole surviving grandstand from that era is now named after the club�s greatest ever player.

In only his second season Dyer won the first of what would be a club record six best and fairest awards for Richmond � an achievement that would be recognised decades later by the Tigers renaming their club champion award �The Jack Dyer Medal.�

However he missed out on the Tigers� premiership side of that season but played in the first of two premierships with his beloved Richmond in 1934.

Four successive best and fairest awards followed in succession from 1937-40 and then Dyer became captain and coach of the Tigers in 1941.

His greatest triumph came in 1943 when he captained and coached the Tigers to their first premiership in a decade and he would continue as coach through until 1952.

Dyer�s then playing record of 312 games from 1931-49, and he also coached the Tigers in 225 games, would stand until 1979 when broken by Kevin Bartlett and all these years later he still remains second on the Tigers� games played list.

Renowned as one of the toughest players in the game�s history, Dyer � who was short by the standards of modern-day ruckman - also had plenty of skill as evidenced by his efforts to kick 443 goals during his long career.

Despite playing nearly all his career as ruckman, that effort has only been bettered at Richmond by specialist full-forwards Jack Dyer, Michael Roach and Dick Harris as well as the freakish Bartlett.

Dyer was also a Victorian representative on many occasions and captained the state in 1941 and 1949.

He was one of the inaugural AFL legends when inducted into the league�s Hall of Fame in 1996 and would receive the same honour at Richmond when the Tigers launched their Hall of Fame in 2002.

But incredibly, that is just half the great story of Jack Dyer.

After his retirement Dyer was a natural for the media industry and soon became involved in the then formative years of television at Channel Seven.

One of the best football callers of his era, Dyer forged a legendary radio partnership with Ian Major with the pair known as �The Captain and the Major� as they called together for more than 20 years on 3KZ.

However it was his television partnership with two of his former on-field sparring partners in Collingwood rover Lou Richards and Geelong flyer Bob Davis that made Dyer a household name in Victoria for the best part of three decades.

The trio�s highly successful League Teams show on Channel Seven was the forerunner to the highly successful The Footy Show of today and was the perfect recipe for Dyer�s quick wit and hilarious one-liners.

His partnership with Richards in particular was legendary and the pair�s long-running banter on the World of Sport footy panel on Sunday afternoons was the stuff of legend.

With the pair � one the greatest ruckman of his era and the other the greatest rover � regularly exchanged barbs on television it would have been easy to think they did not get along but in reality were the closest of friends.

Dyer�s hatred of Richards� former club Collingwood was also legendary and was best summed up by the time he told Richards on television that he hated Collingwood so much �he wouldn�t even watch a black and white movie.�

Amongst Dyer�s many other famous one-liners � some of which were definitely true and some of which may be myth included:

- during his time as coach when he told his players to 'pair off threes.'

- when told of the change to the AFL�s finals system in 1972: �Things won�t be the same now there are five teams in the four.�

- or when talking about a goal he kicked from a tight angle one day, he said the angle was so tight 'the ball was wedged between the posts.'

- or when asked what was wrong with the modern-day players, he replied: �All they want to do is sit around and smoke marinara.�

Such famous one-liners made Dyer hugely popular throughout the 1970�s and 1980�s � even though that generation had never seen him play.

His thoughts on players also made for hilarious television such as when he described then boom Carlton recruit Peter Bosustow in the early 1980�s as �a good, ordinary player.�

Or when asked why a player was out of form � Dyer simply said 'he keeps getting where the ball ain�t'.

Dyer also had another term for big-name recruits, who arrived with huge reputations before even playing a VFL game.

They were simply referred to as 'March champions'.

Jack Dyer was no �March champion� though.

He was quite simply the toughest and best ruckman of his era, a man who created much of what is Richmond�s proud history and a man who kept thousands of people entertained long after his playing days were over with his sense of humour and quick wit.


AFL Story