Eureka Tower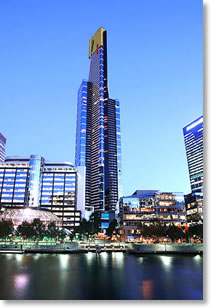 The world's tallest residential tower is the Eureka Tower located on the southbank of the Yarra River in Melbourne Australia.
Eureka Tower opened on October 11, 2006 taking 4 years 2 months to complete with a construction cost approximately AU $500 million.
The world's tallest residential tower
Height of Building 984.3 ft | 300m
Eureka's 13 lifts are the fastest in the Southern Hemisphere
Lifts travel at more than 9 metres per second
The facade consists of glass aluminium panels covering an area of 40,000 sq. metres
The glass on the top 8 floors is 24 carat gold infused
The tower used 110,000 tonnes of concrete and weighs 200,000 tonnes
3,680 stairs - 92 storeys - 52,000 sq. metres of windows
The
Skydeck
is situated on the 88th floor and is the highest public vantage point (285m) in the Southern Hemisphere
The top of the Tower can flex up to 600mm in high winds. Two 300,000 litre water tanks on levels 90 & 91 help to dampen the oscillations
Horizontal white lines on Eureka Tower represent the centimetres and millimetries of a ruler
Developer: Eureka Tower Pty Ltd
Architect: Fender Katsalidis Pty Ltd
Contractor: Grocon Constructions Pty Ltd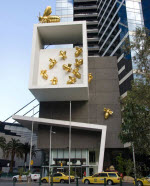 Eureka Bees
The wonderful art installation is called Queen Bee by Richard Stringer.
THE summer insect plague in Melbourne has reached a new level, with a swarm of huge bees taking on the Eureka Tower.
It might sound like King Kong meets Killer Bees! - a bee-grade movie at best - but in fact it's an eye-catching art installation commissioned by tower architect Nonda Katsalidis.
Workmen gingerly installed the giant golden bees above the Eureka Tower main entrance yesterday, using a crane to lift the three-metre creepy-crawlies into place on the tower wall.
Artists have reportedly been working on the project since the Eureka Tower was officially opened in October last year.
Mr Katsalidis is credited with kicking off the Melbourne trend of public art on private development, with prominent art projects on the Hero apartments on Russell St and the Republic tower in Queen St.
He also designed the Ian Potter Museum of Art.
Herald Sun (Mon, Dec 10, 2007):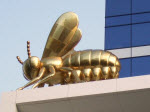 Queen Bee
Richard Stringer's 'Queen Bee' for Eureka Tower was developed from a series of studio works in 2003-04.
Nonda Katsalidis saw these original sculptures in 2003 and began the process of finding funding for a large scale version while Stringer adapted the idea to the building in regards to scale, layout and construction method.
Katsalidis and Stringer had discussed the idea of making a permanent installation on various building projects over the years and the image of a Queen Bee and colony had a obvious conceptual compatibility to the context of this gigantic residential tower. The gold finish of Stringer's works also complimented the golden glass apex of the building designed by Katsalidis.
The sculpture is made from anodized aluminum sheet using cast aluminum for all the antennae and small bees legs. The sheets are riveted together using 110,000 anodized rivets.
The work was begun in January 2006 at Stringer's Richmond studio and the completed work was installed in December 2007.
❊ Address & Contact ❊
⊜ 7 Riverside Quay Southbank |
Map
✆
03 9685 0188

❊ Web Links ❊
→
Eureka Tower
→
Buy Tickets Online | eurekaskydeck.com.au
→
Eureka Tower - Wikipedia
→
www.eurekalookout.com.au
→
Picture Gallery | Eureka Tower
→
www.eurekaskydeck.com.au
❊ Also See... ❊
→
Australia 108
→
Eureka Skydeck 88
→
ExperienceOZ | Melbourne Tours
Trending HOT

Things to see, hear & do this weekend
Weekends are precious. Two days to do what we please. All day Saturday and Sunday to chill, fill and party to our hearts content. No city does it better than ..

Mad March Melbourne 2019
If there was any dispute as to Australia's leading events city, one only has to look at Melbourne in March to see how many first-class, world events are on. Melbourne ..
---
→
Page Editor