eBROADCAST | TV Guide

View Melbourne TV Guide for all channels and times with reviews.
You can also search individual words, classifications and channels including Foxtel which is handy if you are looking for something special.
***
eBROADCAST - What's On Tonight
***
eBroadcast Alerts software powered by Simcast
Receive the eBroadcast news you want, when you want it.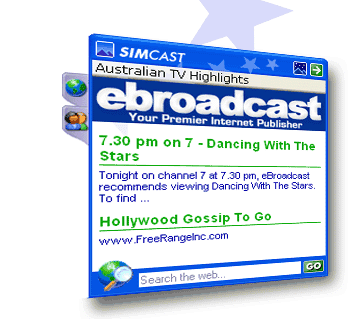 Features of eBroadcast news channels include:
TV Highlight Alerts
Daily Australian television highlights, as chosen by the TV-mad guys at eBroadcast! We scan our television guide each day and tell you what you simply can't miss each and every night of the week!.
And coming very soon to your eBroadcast Alert service:
- Daily Australian Entertainment News Headlines
- Daily TV Ratings reports
- Media Releases from the Australian TV industry
- RED-HOT Discussion Topics submitted by our users each day
- And much more!
Download the eBroadcast Alerts software powered by Simcast for FREE!
❊ Web Links ❊
→
eBROADCAST | TV Guide
Trending HOT

Things to see, hear & do this weekend
Weekends are precious. Two days to do what we please. All day Saturday and Sunday to chill, fill and party to our hearts content. No city does it better than ..

Australian Open 2019
Melbourne in January means only one thing - the Australian Open. With the world's top tennis players fighting it out for the first Grand Slam title of the year, there's ..
---
→
Page Editor