Site Map & Search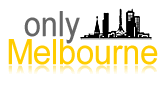 Use this page to find information in 60,000+ pages about Melbourne's past, present and future.
SITE MAP
Restaurants A-Z
|
Food Markets
|
---
---
---
SEARCH BY DATE
BUSINESS DIRECTORY
SUBURBS
View Melbourne by selecting the first letter of a suburb name...
MAPS
SEEKING
HISTORY
Melbourne is the capital of Victoria and Australia's second largest city, built with the wealth of the 1850's Gold Rush. Melbourne has always been special with an amazing history that has forged a beautiful green city with fine buildings, superb parks and excellent sporting facilities.
Melbourne History Guide..
AROUND
There are many interesting places in Melbourne including the Yarra River, Old Melbourne Gaol, the "G" better known as the MCG, home to the 1956 Olympic Games and Australian Rules Football.
Sightseeing and Attractions Guide..
Get listed in Only Melbourne. Advertising and Listing Information
About OnlyMelbourne

Discover OnlyMelbourne through the links below!




Odd Stuff





Blogs








What's happening in #Melbourne Australia https://t.co/jW5Zpfco7H pic.twitter.com/TQB1MwLJHP

— OnlyMelbourne (@OnlyMelbourne) January 2, 2016